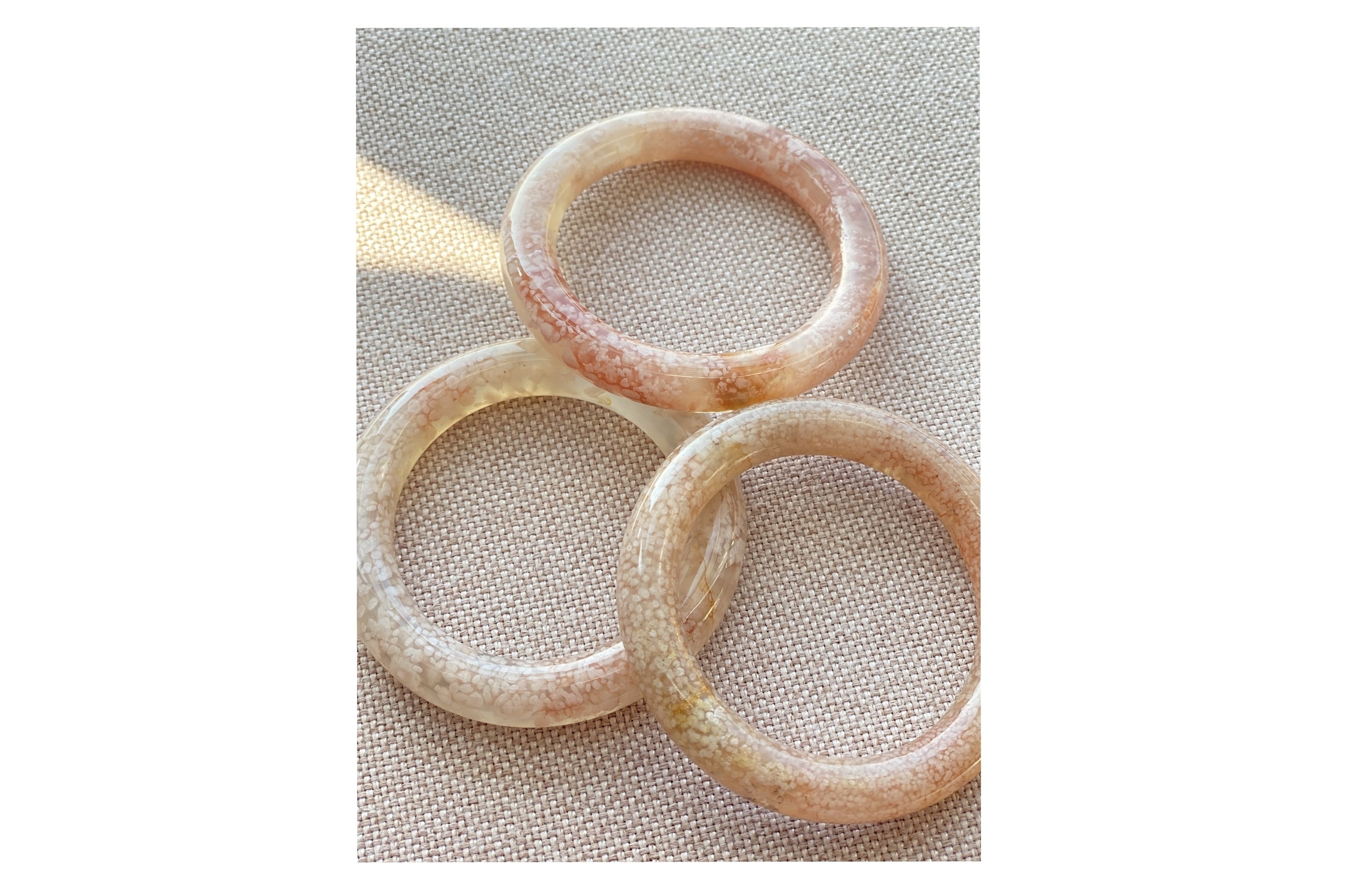 "Cherry Blossom Agate is the kind of stone you see and fall in love with instantly." Kelly Fu
In the world of agates, the cherry blossom variety occupies a central place. Fascinating and absolutely stunning, this stone is found in Madagascar. Cherry Blossom agate is a plume agate that features elaborate inclusions that give the stone its outstanding aesthetics.
Like all other flower agates, cherry blossoms feature 3 dimensional plumes, as opposed to other plume agate that only have 2D ones. Cherry Blossom agates in particular feature floral plumes that closely resemble the gorgeous cherry blossom flower which is what this stone is named after. Agate is a very old stone (takes 50 million years to form) and widespread rock that has bands of colour on it 
MINDFULNESS ✧ SENSUALITY ✧ SELF-GROWTH

Cherry Blossom Agate, also known as Sakura Agate or Flower Agate, can be described as an energy that helps in "reblooming" after painful or exhausting periods in life. It has the heart-focus of pink chalcedony, but its energy is punchier.
The shape of carved standing crystal points direct and focus energies out the termination point. These stones are excellent for raising the vibration of a location. Place the crystal point on your altar or within any sacred space to release their healing power.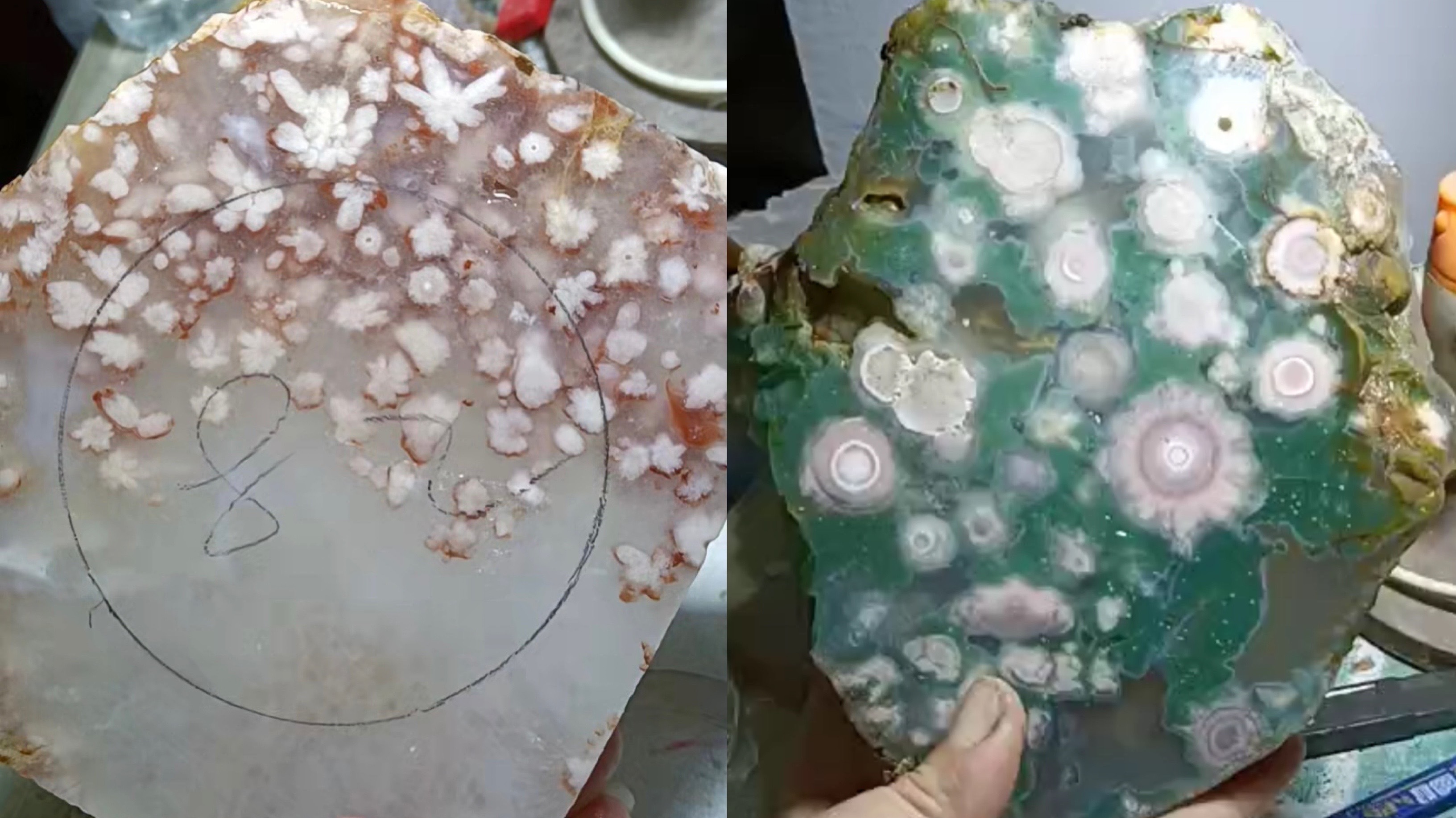 NATURAL STONE FCTORY FOR QUALITY STONE PROCESSING

We import rough blocks from Madagascar and process them in China into the finest quality agate bangles, pendants and beads. We understand the important of accurate sizes and patterns for our dearest customers, we do manual screening to capture the best part of each stone to make our beautiful accessories.
↠ CHERRY BLOSSOM AGATE HEALING PROPERTIES & BENEFITS↞
✧ Extremely soothing, especially after recent trauma or stress
✧ Helps to envision the process of growth
✧ Protects from fear & self-doubt
✧ Has a feminine and maternal presence
✧ Ideal for restoring emotional balance & recovery
↠ STONE PROPERTIES↞
CHAKRA: Heart
ZODIAC SIGN: Gemini, Libra, Capricorn
↠ General care↞
✧ Agate is a durable stone with Mohs hardness rating to 6.5 to 7, it is strong enough for daily wear 

✧
 Agate can be fade when exposed to sunlight for a long period of time. It is very sensitive to sudden temperature change, this can cause our gate shatter
✧ 
Clean the agate using soapy water and a soft brush. Avoid using household chemicals when cleaning agate 
✧ 
We do not recommend to shock our gates in water especially salt water. Water moecules gets into microscopic fissures in the stone, and encourage them to get wider. This cause physical instability in the material, leading to cracking or cleaving over time.
✧ 
Agate can be cleansed by smudging  it with lavender or sage as it adores both of these healing inland strongly soothing herbs. You can also run your agate under water to wash those toxic vibes away
.